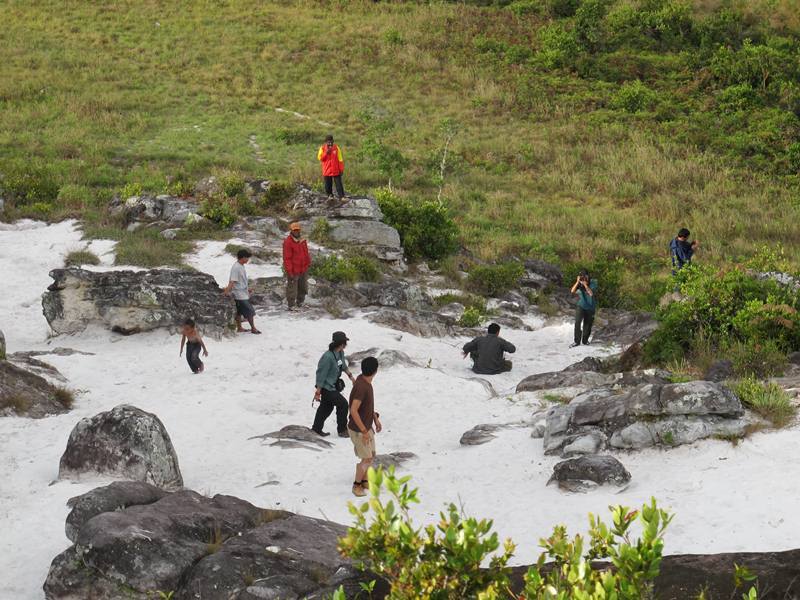 Papua seems to never run out to be explored.
In the central part of the island, in Wamena, there is a natural wonder that will leave you amazed.
The white sand in the hills of Sumpula are able to fascinate and tim detikTravel Dream Destination of Papua during a visit there, on Monday (26/11/2012).
From Wamena Airport, travel to the Hill Sumpula takes about 45 minutes by car.
The heat of the city of Wamena offset by cool air typical of Wamena.
Frankly, its territory is surrounded by mountains.
The Fresh!
Finally, the eyes of all groups of fixed to a hill.
A hill overgrown with grass and full of gray rocks.
There are no trees that are high there.
The car was stopped at the Bank.
All groups of already promised by the tour guide about the Hill shrouded in white sand.
The camera was already ready at hand to portrayed it.
After climbing up the hill from the curb, the promise of the promises kept.
Yes, in front of us there is a stretch of white sand.
Really like sand white sand beach!
"On this hill there are six points to the location of white sand," said our guide, Sakeus Dabi.
White sand is very contrasting with the green grass upside down.
It's truly magical.
When held, the soft texture is very smooth in the hand.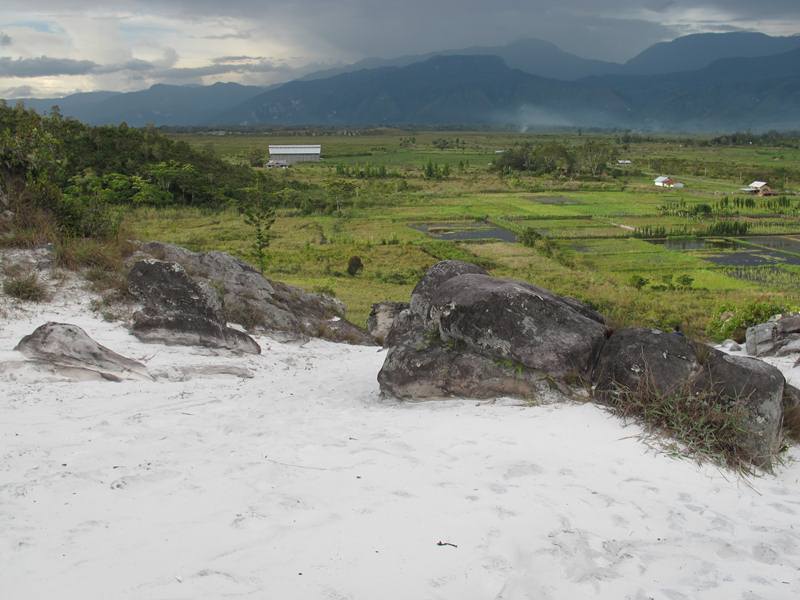 Still in a sense of amazement, Entourage was instructed to climb further up.
There are moreover there?
Wow!
While climbing to the top of the visitors could be higher again, more white sand.
Not only that, the stones of berwana black and grey scenery makes it more amazing.
Stone-granite, such as on the beach on the island of Belitung!
"White sands already exists since it used to be, this is the gift of God," continued Sakeus.
The Entourage was made busy photographing here and there, as well as play sand.
From the top of visitors, there is a green berwana mountains shrouded in clouds of white and clear blue sky.
Little kids who play here add to our joy.
"The community keep this place refuse the processing of white sand to glass made," stated Sakeus.
Sakeus adds, the white sand dunes is not yet entered in the management of the Department of Culture and tourism.
Masyarakatlah that is keeping it maintained.
"For the cost of the entry voluntarily," said Sakeus.
This is the magic of Papua.
White Sands here, like ' the beach ' which was moved up the Hill.
Although there are no blue sea, white sand already make these yourself amazed!